Continental Rifted Margins 2
Case Examples
SCIENCES - Geoscience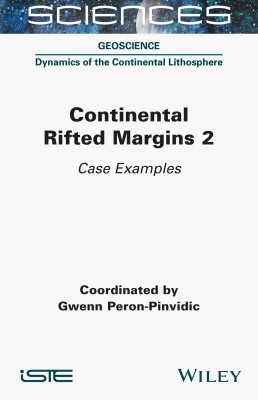 Description
Rifted margins mark the transition between continents and oceans, which are the two first-order types of land masses on Earth. Rifted margins contribute to our understanding of lithospheric extensional processes and are studied by various disciplines of Earth Science (geology, geophysics, geochemistry). Thanks to better and wider public access to high-quality data, our understanding in these areas has improved significantly over these last two decades.

This book summarizes this knowledge evolution and details where we stand today, with a series of case examples included. It is structured in a practical way, with concise text descriptions and comprehensive diagrams. Continental Rifted Margins 2 is a useful resource for students and newcomers to the rifted margin community – a "cookbook" of sorts to facilitate the reading of scientific publications and provide basic definitions and explanations.
Contents
1. The West Iberian Margin: Past and Current Research Concepts and Future Challenges, Gaël Lymer and Tim J. Reston.
2. Tectonic Evolution of the Mid-Norwegian Rifted Margin, Per Terje Osmundsen and Gwenn Peron-Pindivic.
3. South and Equatorial Atlantic Margins, Daniel Aslanian and Maryline Moulin.
4. The Continental Margins of the Gulf of Aden, Sylvie Leroy and Chloé Non.
5. The South China Sea – Rifting and the Evolution of a Marginal Basin, Manuel Pubellier, Sung-Ping Chang and Matthias Delescluse.
6. Arctic Continental Margins, Carmen Gaina.
7. Alpine Tethys Margins, Gianreto Manatschal and Pauline Chenin.
8. A Fossil Magma-rich Rifted Margin in the Scandinavian Caledonides, Johannes Jakob, Hans Jørgen Kjøll and Torgeir Bjørge Andersen.
9. Cretaceous Rifting at the Pyrenean Iberia–Eurasia Border: Crustal Thinning under a Pre-rift Cover – Application to Passive Margins, Yves Lagabrielle.
About the authors
Gwenn Peron-Pinvidic studies geodynamic questions related to extensional lithospheric deformation. Combining geological and geophysical tools across both onshore and offshore settings, she is recognized worldwide as an expert in continental rifted margins.
Downloads

Table of Contents
PDF File 105 Kb