Multimedia Security 2
Biometrics, Video Surveillance and Multimedia Encryption
SCIENCES - Image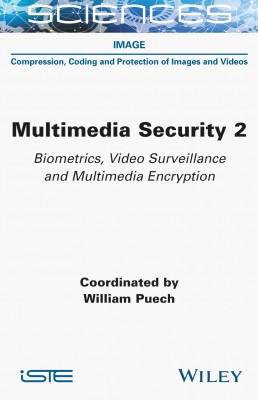 Description
Today, more than 80% of the data transmitted over networks and archived on our computers, tablets, cell phones or clouds is multimedia data – images, videos, audio, 3D data. The applications of this data range from video games to healthcare, and include computer-aided design, video surveillance and biometrics.
It is becoming increasingly urgent to secure this data, not only during transmission and archiving, but also during its retrieval and use. Indeed, in today's "all-digital" world, it is becoming ever-easier to copy data, view it unrightfully, steal it or falsify it.

Multimedia Security 2 analyzes issues relating to biometrics, protection, integrity and encryption of multimedia data. It also covers aspects such as crypto-compression of images and videos, homomorphic encryption, data hiding in the encrypted domain and secret sharing.





Contents
1. Biometrics and Applications, Christophe Charrier, Christophe Rosenberger and Amine Nait-Ali.
2. Protecting Documents Using Printed Anticopy Elements, Iuliia Tkachenko, Alain Tremeau and Thierry Fournel.
3. Verifying Document Integrity, Petra Gomez-Kramer.
4. Image Crypto-Compression, Vincent Itier, Pauline Puteaux and William Puech.
5. Crypto-Compression of Videos, Cyril Bergeron, Wassim Hamidouche and Olivier Déforges.
6. Processing Encrypted Multimedia Data Using Homomorphic Encryption, Sébastien Canard, Sergiu Carpov, Caroline Fontaine and Renaud Sirdey.
7. Data Hiding in the Encrypted Domain, Pauline Puteaux and William Puech.
8. Sharing Secret Images and 3D Objects, Sébastien Beugnon, Pauline Puteaux and William Puech.


About the authors
William Puech is Professor of Computer Science at Université de Montpellier, France. His research focuses on image processing and multimedia security in particular, from its theories to its applications.
Downloads

Table of Contents
PDF File 38 Kb