Caring Management in Health Organizations
A Lever for Crisis Management
Volume 3 - Health and Innovation SET Coordinated by Corinne Grenier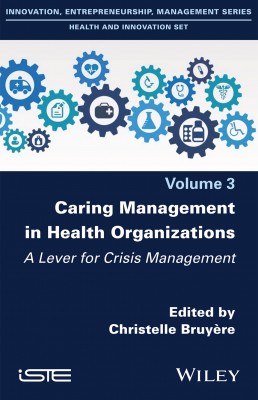 Description
Health organizations in social, medico-social and health sectors are not immune to the pressures of productivity, efficiency and quality. The race against time, which is far more problematic today than 20 years ago, makes care in the workplace much more difficult to implement, though it is essential. The onset of the Covid-19 pandemic in 2020 only reinforced this stance.

Caring Management in Heath Organizations questions the benevolent nature of management, understood here to mean taking care, according a central role to relationships. It takes a political, historical and international perspective on health management, examining successful implementations of this practice in health organizations, with all its difficulties, pitfalls and riches. Other sectors are also explored.

This book takes a critical look at the very foundations of "caring management". It opens up the debate between researchers from different backgrounds and professionals in the field.
Contents
Part 1. A Committed Vision of Caring Management
1. Caring Management and the Health-care System: The Vision of Two Committed Doctor-managers, Carole Mure and Cécile Romeyer.
2. Valuing Human Relationships in the Organization of Care: An International Approach, Julia Gudefin and André Simonnet.
3. The Search for a Caring Nature at Work throughout History, Frédéric Pellegrin Romeggio.
4. Caring Management: A Lever to Anticipate, Manage and Repair Crises in the Health-Care System? Lessons Learned from the COVID-19 Health Crisis, Manel Abdeljalil-Diné, Christelle Bruyère, Nelly Massard and Martine Séville.

Part 2. Management in the Health Sector: What Feedback Do We Get?
5. Between Illusion and Disillusionment: A Critical View by a Work Sociologist, Marc Bernaud and Marie-Cécile Legay.
6. Implementation of an Innovative Project in a Nursing Home as a Catalyst for Managerial Innovation, Nelly Masard and Florence Vichi.
7. The Determinants of Happiness in the Workplace for Health-care Workers, Vanessa Fazal, Virginie Moisson and Pascal Moulette.
8. Management and Benevolence: How Can Managerial Action in the Development of Health Teams be Supported?, Annie Debard.

Part 3. Let Us Take a Look Elsewhere: What Do Other Sectors of Activity Say?
9. Caring Management: What are the Experiments in the Auvergne-Rhône-Alpes Region?, Manel Abdeljalil-Diné, Sébastien Diné and François Jutras.
10. Caring Management: What is the Impact on Student Performance?, Sandrine Broussouloux and Christelle Bruyère.
11. Caring Management and Large-scale Distribution: A Happy Marriage?, Christelle Bruyère, Sébastien Diné, Frédéric Pellegrin Romeggio and Philippe Rodet.
About the authors
Christelle Bruyère is a senior lecturer in management sciences at Jean Monnet de Saint-Etienne University, France. Her research focuses on strategic management and sustainable performance in health.

Downloads

Table of Contents
PDF File 166 Kb