Decision and Decision-maker in an Industrial Environment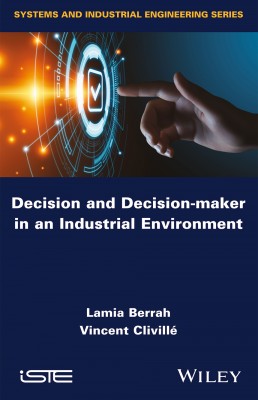 Description
Decision and Decision-maker in an Industrial Environment developed around the observation that two different decision-makers, faced with the same problem, may not make the same decision. The book proposes explanations for this, ranging from the wholly rational to the irrational, and analyzes different factors in decision-making, such as the intention of the decision-maker, the environment in which their decision is made or the process leading to decision-making.

While the common belief is that everything in an industrial environment stems from reasoned decisions, analysis of common practice shows that this is not always the case. This book offers an original perspective by presenting the decision making mechanism from the point of view of the decision maker and their handling of a specific decision-making problem.

To learn more about the decision-maker's motivations when faced with these situations, the authors provide a review of the history of decision-making and the major trends in decision-making theory. The concepts and methods are presented with illustrations based on the use of an MES, an industrial management software package.

Contents
1. Decision and Decision Context.
2. Decisions: The Process.
3. The Decision: The Multi-criteria Universe.
4. The Decision: Methods.
About the authors
Lamia Berrah is Assistant Professor at the University Savoie Mont Blanc, France. Her research focuses on industrial performance and decision support.

Vincent Clivillé is Associate Professor at the University Savoie Mont Blanc, France. His research focuses on industrial performance aggregation and multicriteria decision support.

Downloads

Table of Contents
PDF File 140 Kb