Digital Transformation
Information System Governance
Volume 6 – Advances in Information Systems SET Coordinated by Camille Rosenthal-Sabroux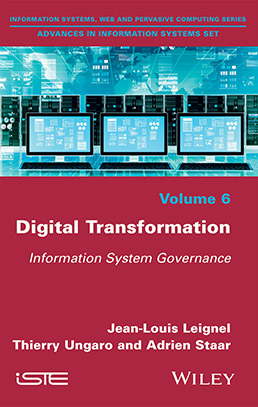 Description
Information systems have become a major enabler of business evolution and transformation, and this book offers simple and practical methods for companies to use them to their full advantage.

The Digital Transformation in business has welcomed technological innovation in many areas, acting both as a vehicle for change and as a response to change. For example, automation has resulted in increased productivity and communication abilities as well as a new mode of working for employees. The introduction of management software has also transformed relations with customers, suppliers and partners, and the pace of innovation only continues to increase.

Access to and the sharing of information, the value of data and the potential for collaboration are undergoing significant changes and offer enticing benefits to businesses of all sizes. To harness these benefits, companies must understand the information technology available to them and define a strategy for their implementation. The authors of this book present strategies to manage the complex strategic assets represented by information systems, enabling boards of directors, executive committees and business managers to fully appreciate the impact of good information system governance. The approach and tools within can be used to acknowledge and improve the level of maturity of a business, empowering readers to take full control of information systems and the opportunities offered by the Digital Transformation.


Contents
Part 1. Information Systems Governance at the Service of the Digital Transformation
1. Enterprise Governance: A Framework that Includes IS Governance.
2. Challenges of Enterprise IS Governance.
3. Objectives, Approaches and Key Success Factors of Enterprise IS Governance.
4. How Can the Maturity of Enterprise IS Governance be Improved?

Part 2. Evaluation of the Maturity of Enterprise Information Systems Governance
5. Maturity Evaluation Criteria for Each of the 11 Vectors.


About the authors
Jean-Louis Leignel, previously CIO of Schneider Electric, vice President of the ISACA and of the IT Governance Institute, is currently a Partner at MAGE Consulting. His current research interests concern Enterprise Governance, with a focus on the "product offer creation" process, and Enterprise Global Performance measurement, which includes maturity of Governance and Corporate Social Responsibility (CSR), performance indicators per business process, Business Scorecard, Activity Based Costing, etc.

Thierry Ungaro is CEO and founder of "Ad Valoris", a consultancy firm in Organization and Project Management based in Geneva. Through targeted and personalized services, its purpose is to help Managements to reach their goals regarding service quality and operational efficiency.

Adrien Staar is a Partner at the firm MLA, responsible for the IS governance service line.


Downloads

Table of Contents
PDF File 262 Kb