Traceable Human Experiment Design Research
Theoretical Model and Practical Guide
Volume 9 – Advances in Information Systems SET Coordinated by Camille Rosenthal-Sabroux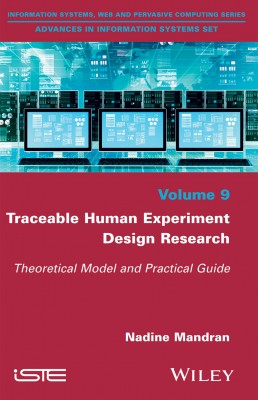 Description
This book provides insight into a new methodology in human-centered computing research.

THEDRE (Traceable Human Experiment Design Research) is a methodology which values the integration of the individual into the construction and evaluation process of digital devices. In this book, this user-centric approach is discussed in detail, and includes an insight into its principles, theory, research methods and implementation.

The author provides the reader with the tools required to ensure research work is traceable. It develops knowledge of experimental HCCR practices among students in order to respond to emerging research, and to connect this work to quality management tools.
Contents
1. Human-Centered Computer Science Research (HCCSR).
2. THEDRE Principles.
3. Four Research Methods.
4. THEDRE: Theoretical Model.
5. THEDRE Implementation.
6. Construction and Evaluation.
Appendix 1. Evaluation of THEDRE Modeling Language.
Appendix 2. Evaluation of the Usability of THEDRE Guides.

About the authors
Nadine Mandran is a methodologist in production and data analysis. Her research focuses on the development of methodologies for conducting "human-centered" computer science research (HCCSR).
Downloads

Table of Contents
PDF File 92 Kb