Innovation Engines
Entrepreneurs and Enterprises in a Turbulent World
Volume 1 - Innovation in Engineering and Technology SET Coordinated by Dimitri Uzunidis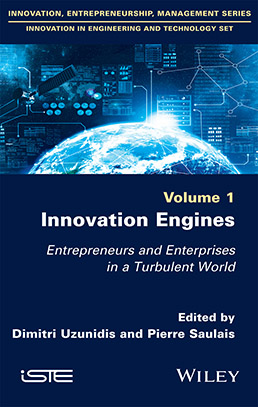 Description
In an uncertain economy where business risk is high, innovation is at the heart of business.

To understand the process of innovation, from the design and development of new products to the price of the creative dimension of the individual, studying the company and the organization is essential.

In new approaches to innovation, the entrepreneur and the company are defined by their skills. The innovative organization is presented in this book as a dynamic system composed of specific and diversified skills.

By acquiring, combining and mobilizing these skills, the innovative agent can create technological resources and develop relationships within their environment.

Managing the design, application and protection of intellectual property is an important aspect of this, as is the development of new goods, services and technology models, businesses and organizations.


Contents
1. Innovation Strategies and Entrepreneurial Dynamics.
2. Innovative Milieus and Innovative Entrepreneurship.
3. Start-up Founders and Support for Technology Entrepreneurs.
4. The Importance of Entrepreneurial Creativity.
5. From Ideation to Product Launch.
6. The Patent: A "Swiss Army Knife" for Invention and Innovation.
7. Invention, Innovation and Intellectual Property Rights.
8. Commitment to an Industrial Evolution.


About the authors
Dimitri Uzunidis is Professor in Political Economy. He is currently President of the Research Network on Innovation in Paris, France.

Pierre Saulais is a civil engineer in Aeronautics and Space and is the holder of a doctorate in Knowledge Management. His research interests focus on knowledge-based innovation (KBI), as well as on the generation and extraction of inventive knowledge.


Downloads

Table of Contents
PDF File 297 Kb