Systemic Innovation
Entrepreneurial Strategies and Market Dynamics
Volume 7 - Innovation in Engineering and Technology SET Coordinated by Dimitri Uzunidis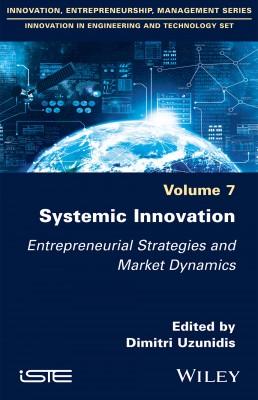 Description
Systemic innovation is based on business networks and new business models in a global economy integrated by flows of knowledge, capital, and goods. The authors of this book consider the theory that innovations act as systems based on multi-actor interactions. Innovation is contextualized to demonstrate in what capacity a company or an entrepreneur can innovate.

The book details the management of scientific, technical and cognitive resources, the relationships between R&D partners, the creativity and the rules that allow a market and a company to innovate. This contextualization, associated with entrepreneurial strategy, leads to systemic innovation.
This book analyzes some key sectors of the economy that are knowledge-intensive and rapidly changing: transport and communications, defense, information technology, artificial intelligence, and the environment.
Contents
1. Enterprise Through the Lens of Agility, Creativity and Monitoring Method Combinations, Stéphane Goria.
2. Science Fiction: A Strategic Approach for Innovative Organizations, Thomas Michaud.
3. The Management of Inventive Knowledge: From Inventive Intellectual Corpus to Innovation, Pierre Saulais and Jean-Louis Ermine.
4. Evolution of Firms Trajectories and Innovation: Knowledge Capital and Financial Opportunities, Blandine Laperche.
5. From Shared Inventions to Competitive Innovations: Networks and Enterprise Automation Strategies, Michel Viggezzi and Dimitri Uzunidis.
6. Technologies and Inter-industrial Collaborations: A Patent Analysis, Didier Lebert and François-Xavier Meunier.
7. Technological Change and Environmental Transition: Lessons from the Case of the Automobile, Smaïl Aït-El-Hadj.
8. The Transformation of Defense Innovation Systems: Knowledge Bases, Disruptive Technologies and Operational Capabilities, Pierre Barbaroux.
9. Nanotechnologies and Business Intelligence: Challenges of Information Valorization and Knowledge Creation, Jean-Louis Monino.
10. When Innovation Innovates: How Artificial Intelligence Challenges the Patent System, Marc Baudry and Beatrice Dumont.
11. Conflicting Standards and Innovation in Energy Transition, Stéphane Callens.
About the authors
Dimitri Uzunidis is a Professor of Political Economy and the Honorary President of the Innovation Research Network in France. He has directed and edited several journals and collections on the study of innovation and paradigmatic change. As a specialist in change, he provides expertise for various international organizations.
Downloads

Table of Contents
PDF File 115 Kb