Knowledge Management
The Creative Loop
Volume 5 – Innovation and Technology SET Coordinated by Chantal Ammi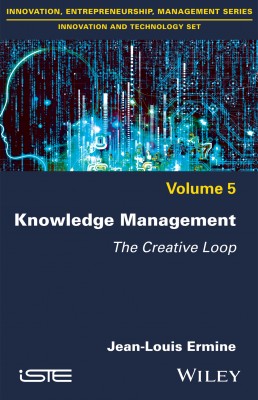 Description
Knowledge Management is a strategic issue for both public and private companies and for standard-setting bodies such as the International Organization for Standardization (ISO) and the International Atomic Energy Agency (IAEA), who have recently incorporated it into their requirements. However, Knowledge Management remains an ill-defined concept, and the processes to be implemented in companies are not all well known.

This book provides a conceptual and methodological guide to the subject. It is the result of more than 20 years of research in different laboratories, concerning various applications in a wide range of public and private companies around the world. With sections dedicated to both theoretical and practical points of view, it outlines a global and coherent vision of the main concepts on which Knowledge Management must be based.
Contents
Part 1. Theoretical Elements
1. A Knowledge Value Chain.
2. The Knowledge Capital of a Company.
3. The Structure of Knowledge.
4. Shannon's Theory of Knowledge.

Part 2. Practical Elements
5. A New Approach to KM.
6. A Framework for Knowledge-based KM.
7. KM: From Strategy to Implementation.
8. Analyzing Knowledge Capital and Elaborating a KM Plan.
9. Implementing the KM Plan.

About the authors
Jean-Louis Ermine is Professor Emeritus at the Institut Mines-Télécom and an expert at the IAEA, having worked at several universities as well as the French Alternative Energies and Atomic Energy Commission (CEA). He has been a project manager and advisor for many Knowledge Management projects in France and abroad and is a delegate for the ISO commission for Knowledge Management.
Downloads

Table of Contents
PDF File 104 Kb