Health Data Processing
Systemic Approaches
Health Industrialization SET coordinated by Bruno Salgues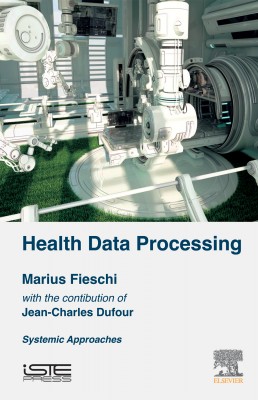 Description
The evolution of health systems requires adapted governance and an investigation of values. This necessitates a better use of digital technologies that are integrated into interoperable, coherent and evolving information systems that allow us to fight against the fragmentation of practices.

This work illustrates the conceptual approach of information systems which, by using adapted and perennial terminologies, must ensure semantic interoperability – a necessary condition for coupling data and knowledge established by research and used in business processes. This approach imposes a systematic, transversal vision that supports a complex reality where the interoperability of professional and software agents is central.

Current systems must evolve in order to improve the reliability of business processes as well as the reuse of resources that constitute data for the better coordination of professionals, the amelioration of continuing treatments, the evolution of practices and health research.

Contents
1. Understanding the Fundamental Nature of Information and its Processing.
2. A Few Questions on Information Sharing.
3. The Place of Healthcare Delivery Processes in Information Systems.
4. The Quality of the Urbanization of the Information System is Central to its Performance.
5. Reference Terminologies in Healthcare Information Systems.
6. Patient Identification in Healthcare Information Systems.
7. Information System Security and Data Protection.
8. Knowledge Management and Medical Decision Support.
9. Managing and Integrating Clinical Data: Health Records.
10. Managing and Integrating Laboratory Data and Functional Investigations.
11. Managing and Integrating Medical Images.
12. Managing and Integrating Telemedicine and Telehealth.
13. Integrating Extra-hospital Care Data.
14. Reusing Data in Healthcare.
15. Integrating Data for Management and Decision Analysis.
16. Data for Epidemiology and Public Health, and Big Data.
17. Integrating Bioinformatics Data.
18. Clinical Research Data.
19. Evaluating Information Systems.
20. The Governance of Healthcare Information Systems, the Hospital, Outpatient and Industrial Contexts.

Appendix 1. Management of Selected International Terminologies.
Appendix 2. Further Information on DICOM Standards.
Appendix 3. Further Information on the système national des données de santé (National Healthcare Data System – SNDS) in France.
Appendix 4. Metadata.
Appendix 5. Clinical Observation Specifications.
Appendix 6. Ontologies.
Appendix 7. Document Banks – Medication Data.
Appendix 8. Hosting Health Data in France.
Appendix 9. Developing an Information System Master Plan.




About the authors
Marius Fieschi is the author of a number of works related to health informatics and is an Honorary Professor of Health Informatics at Aix-Marseille University in France. His research focuses on medical decision support, the implementations of artificial intelligence and health information systems.
Downloads

Table of Contents
PDF File 163 Kb