The Meaning of Otherness in Education
Stakes, Forms, Process, Thoughts and Transfers
Volume 3 - Education SET Coordinated by Gérard Boudesseul and Angela Barthes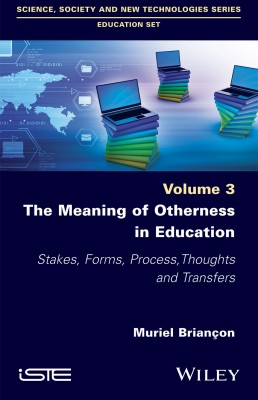 Description
The notion of otherness, often misused, requires important conceptualization work in order for it to be considered in all of its forms, and not simply reduced to the account of others. Although otherness certainly questions the link to the other (relation), it also questions the link to the self (reflexivity) and the link to knowledge (epistemology). Being tridimensional, the process of otherness is a paradox, the meaning of which can only be drawn thanks to ethics, psychoanalytical orientation and the history of philosophical ideas.

This book, which relates to philosophy of education, seeks to explain the problematic notion of otherness, the desire for which is specific to humankind. It examines how otherness questions the limits of knowledge, transmission and language, and argues that it is in fact a value, a tool and practice for all the actors involved in the relationship between education, knowledge and care.
Contents
1. The Stakes of a Problematic Otherness
2. The Forms of Otherness
3. The Process of Teaching Otherness
4. External Otherness, Educational Work and Holiness
5. Inner Otherness and the Object of Research
6. Epistemological Otherness and Non-being
7. Didactizing Otherness
8. Educating for Otherness
9. Training for Otherness
10. Evaluating (with) Otherness

About the authors
Muriel Briançon is Maître de conférences at the Catholic University of the West in La Réunion, France. She has a PhD in educational sciences and in 2014, created a professional training module on otherness at Aix-Marseille University.

Downloads

Table of Contents
PDF File 156 Kb