Territorialization of Education
Trend or Necessity
Volume 5 - Education SET Coordinated by Angela Barthes, Anne-Laure Le Guern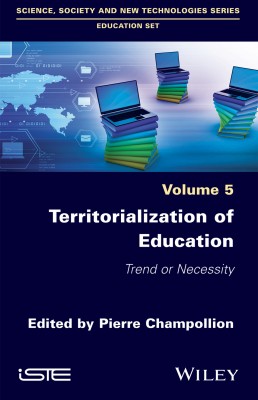 Description
Territorialization of Education revisits, in a new and innovative way, the many interactions that have gradually developed between both territories-territorialities and schools-education.

Predominantly based on original empirical research, this book, by drawing on deeper knowledge, and characterizing and specifying the various interactions, examined through a variety of contexts, contributes to a better understanding of the multifaceted concepts of territory and territoriality that influence education and training.

Territoriality, an important factor in education inequality, is still often overlooked in education and training sciences, particularly in terms of projects, aspirations and choices in educational and career counseling.

Contents
Part 1. Is it Possible to Enroll Education Geographically, Historically and Symbolically in the Territorial Context?
1. School Divisions and Inequalities in Funding, Access to Schools and Staffing, Patrice Caro.
2. A School for Rural Areas? Negotiations and Compromises at the "Congre?s de l'e?cole rurale" (1925), Frédéric Mole.
3. Territories and Disability, Denis Poizat.

Part 2. The Territorialization of Teacher Training, Teaching and Learning?
4. The Territorial Dimension of Teacher Training in Spain, Roser Boix Tomas.
5. Dynamics and Complexity of the Links Between a Teacher's Professional Identity and Territory of Practice, Catherine Rothenburger.
6. Learning, Education and Territory in Portugal, Antonio Duarte.
7. Languages of Instruction, Mother Tongues: Territorial Approaches to Linguistic Insecurity, Bruno Garnier.

Part 3. Differentiating Audiences According to Changes in Territorial Dimensions
8. Territorial and Rural School Representations: Mitigation of their Specificities and Maintenance of Pockets of Resistance, Pierre Champollion.
9. Anomalies, Education and the Zouave of the Alma Bridge, Denis Poizat.

Part 4. De-territorialization of Social Representations of the Territory and Academia Related to the Use of Digital Technology
10. Projects and Digital Experience: The Construction of a New Relationship with the Territory, Anne Piponnier.
11. Unequal Use of the Internet and Social Networks in Rural Areas, Patrice Caro.
12. Bringing Together Rural and Urban Representations Due to the Penetration of the Internet and Social Networks, Pierre Champollion.
About the authors
Pierre Champollion is doctor of Education Sciences, member of the ECP-Lyon and ESO-Caen laboratories and Chairman of the Observatoire éducation et territoires (Education and Territories Observatory). He conducts research on the issues of "education and territories" and rural-urban education comparisons.
Downloads

Table of Contents
PDF File 115 Kb