Estuarine Cities Facing Global Change
Towards Anticipatory Governance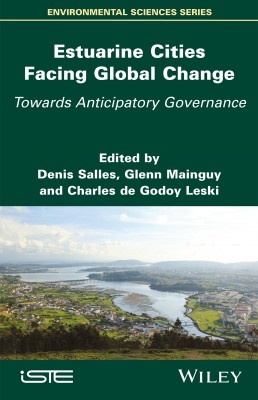 Description
At the heart of the globalization of trade and of economies, estuarine cities are at the forefront of accelerating global change. They must confront the tensions generated by their demographic and socio-economic attractions and their ecological vulnerability linked to their location in trade flows, downstream of rivers and at the interface between land and sea.

Using the examples of the estuarine cities of the Gironde, the Loire and the Seine and their specific challenges, such as climate change, flood risk, biodiversity, port flows and urban planning, this book analyzes their emerging trajectories guided by proactive governance of global change.

Contents
Part 1. The Water of the Cities and the Water of the Fields.
1. The Governance of Socio-Ecological Interdependencies: The Landes du Médoc Water Catchment Area Controversy, Charles De Godoy Leski.
2. Ecological Engineering in a Controversial Drinking Water Production Project, Alain Dupuy and Aude Vincent.

Part 2. Protecting Against Risks, by the Estuary, and for the Estuary.
3. Living in a City Exposed to Flood Risk: At What Cost(s)? Jeanne Dachary-Bernard and Florian Vergneau.
4. The Ecological Restoration of Estuaries: Protection of People and Combating the Erosion of Biodiversity, Mario Lepage, Michael Elliott, Cécile Capderrey and Henrique Cabral.
5. Sensemaking in the Face of Estuarine Flood Risk Mitigation. Jean-Paul Vanderlinden and Nabil Touili.

Part 3. When the Estuary Makes the City.
6. The Estuarine City as an Allegory for Changes in Solidarity, Thierry Oblet.
7. Nantes and the Loire: Construction of an Estuarine City Faced with Port and Environment Challenges, Glenn Mainguy.

Part 4. Anticipating the Future of Estuarine Cities.
8. Past and Future Socio-Ecological Pathways of the Seine Estuary, Gilles Billen, Julia Le Noë, Camille Noûs and Josette Garnier.
9. Metropolitan Trajectories for Anticipatory Governance of Urban Biodiversity, Charles De Godoy Leski and Yohan Sahraoui.

About the authors
Denis Salles is Director of Research in Sociology at ETTIS-INRAE Bordeaux, France.

Glenn Mainguy is a doctor in sociology and a research associate at the Centre Émile Durkheim, France.

Charles de Godoy Leski is a sociologist at LGP-CNRS and a research associate at the Centre Émile Durkheim, France.

Downloads

Table of Contents
PDF File 214 Kb