The Evolution of Life: Teaching, Learning and Training
New Approaches on Current Research in the Didactics of Evolution
SCIENCES - Didactics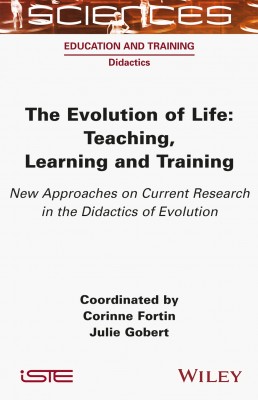 Description
The aim of this collective work is to give an account of the topicality and dynamics of new research in the didactics of evolution, by articulating francophone and international work.

The various contributions pursue a reflection on the challenges of teaching and learning about evolution, based on historical, epistemological and societal approaches. The themes addressed illustrate the vitality and diversity of research issues in educational sciences, from primary school to university.

Structured around different theoretical fields (problematization, didactics of the curriculum, nature of science, etc.), this book explores the content, teaching and learning processes and approaches, teaching practices, as well as pre-service and in-service teacher training, with a view to both intelligibility and feasibility.

Contents
Part 1. Teaching of Evolution and Beliefs.
1. Student Positions in Learning about Evolution in Relation to Religious Beliefs and Scientific Knowledge, Hanaa Chalak, Marco Barroca-Paccard and Francis Rouquet.
2. Relationships between the Ideas of Randomness and Understanding of the Evolution of Life among French High School Students, Magali Coupaud, Julie Gobert, Jérémy Castéra and Alice Delserieys.
3. The Theory of Evolution: Possible Tensions between Science and Religious Beliefs, José Luis Wolfs.

Part 2. Teaching Evolution: Educational and Training Issues.
4. If Nothing Makes Sense without Evolution, What Sense Can Be Made of the Biology Content of the Official French School Curriculum? Marco Barroca-Paccard.
5. What if the Chimpanzee Belonged to the Genus Homo? Circulation of Knowledge and Curricular Re-Problematization, Corinne FORTIN.
6. The Current "Synthesis versus Extended Theory of Evolution" Controversy: A Training Opportunity about the Nature of Science, Magali Fuchs-Gallezot and Corinne Fortin.
7. Historical Controversy over the Ages of the Earth and the Necessity for Deep Time for Darwinian Selection: Its Reception in Teacher Education, Patricia Crépin-Obert.
8. The "Conceptual Landscape" of Evolution: A Possible Instrument for Training of Earth and Life Sciences Teachers, Fabienne Paulin.

Part 3. Teaching Evolution: Conceptions and Obstacles.
9. Building a Reasoned History of the Living World at School: Under What Conditions? Denise Orange Ravachol.
10. The Concept of Species in Thinking about Evolution and the Scientific Classification of Living Things: Comparative Approach at Different School Levels, Yann Lhoste.
11. Conditions for the Construction of the Darwinian Concept of Natural Selection by 6th-Grade Pupils in French-Speaking Belgium, Jean-François Poncelet, Christian Orange and Jean-Christophe De Biseau.
12. Obstacles and Challenges in Teaching Probabilistic Population Thinking in Evolutionary Biology – A Case Study, Julie Gobert and Laurent Theis.



About the authors
Corinne Fortin is an associate professor in Didactics of Life and Earth Sciences at the University of Paris-East Créteil (UPEC) and at the André Revuz Didactics Laboratory (LDAR) of the University of Paris-Cité in France.

Julie Gobert is an associate professor in Didactics of Life and Earth Sciences at the Learning, Didactics, Evaluation, Training Laboratory (ADEF) at Aix-Marseille University, France.

Downloads

Table of Contents
PDF File 280 Kb