Fracture Mechanics 2
Applied Reliability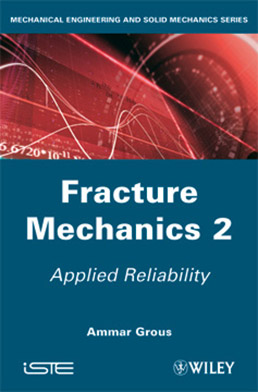 Description
This second book of a 3-volume set on Fracture Mechanics completes the first volume through the analysis of adjustment tests suited to correctly validating the justified use of the laws conforming to the behavior of the materials and structures under study. This volume focuses on the vast range of statistical distributions encountered in reliability. Its aim is to run statistical measurements, to present a report on enhanced measures in mechanical reliability and to evaluate the reliability of repairable or unrepairable systems. To achieve this, the author presents a theoretical and practice-based approach on the following themes: criteria of failures; Bayesian applied probability; Markov chains; Monte Carlo simulation as well as many other solved case studies.

This book distinguishes itself from other works in the field through its originality in presenting an educational approach which aims at helping practitioners both in academia and industry. It is intended for technicians, engineers, designers, students, and teachers working in the fields of engineering and vocational education.

The main objective of the author is to provide an assessment of indicators of quality and reliability to aid in decision-making. To this end, an intuitive and practical approach, based on mathematical rigor, is recommended.
Contents
1. Fracture Mechanisms by Fatigue.
2. Analysis Elements for Determining the Probability of Rupture by Simple Bounds.
3. Analysis of the Reliability of Materials and Structures by the Bayesian Approach.
4. Elements of Analysis for the Reliability of Components by Markov Chains.
5. Reliability Indices.
6. Fracture Criteria Reliability Methods through an Integral Damage Indicator.
7. Monte Carlo Simulation.
8. Case Studies.

About the authors
Ammar Grous received his PhD in Engineering Sciences from the University of Haute Alsace, France. He is also an engineer in mechanics and holder of a Diploma of Height Studies (DEA) in Engineering of Materials and Technological Processes. He currently works at CEGEP de l'Outaouais, Gatineau, Quebec, Canada.
Downloads

Tables of Contents
PDF File 227 Kb