Heat Transfer in the Chemical, Food and Pharmaceutical Industries
Industrial Equipment for Chemical Engineering Set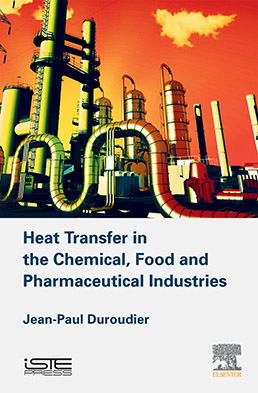 Description
This book is part of the Industrial Equipment for Chemical Engineering Set. Throughout these concise and easy-to-use books, the author uses his vast practical experience and precise knowledge of global research to present an in-depth study of a variety of aspects within the field of chemical engineering.

In this volume, the author focuses the heat exchanges between gases, liquids, divided solids and compact solids without changes of phase.

This book includes discussion on changes of phase, heat exchange processes, combustion and the necessary equipment to measure these.

The author also provides methods needed for understanding the equipment used in applied thermodynamics in the hope of encouraging students and engineers to build the programs they need themselves.

The chapters are complemented with appendices which provide additional information as well as any associated references.


Contents
1. Rotary Calcination Kiln: Heat Exchange by Radiation.
2. Tubular Heat Exchangers and Flat-plate Heat Exchangers.
3. Finned Tube Exchangers.
4. Scraped Surface Heat Exchangers, Spherulation Towers and Solidification on a Moving Surface.
5. Efficiency of Single-phase Heat Exchangers: Fouling.
6. Condensers, Traps and Condensate Lines.
7. Boiling and Heat Transfer.
8. Thermosiphon Reboilers.
9. Concentrating Solutions by Vaporization.
10. Falling Film Vaporizer (Evaporator).
11. Heat Transfer in Stirred Tanks.
12. Cooling or Heating of Simple-form Solids and Plant Products: Blanching.
13. Thermal Insulation of Piping: Tracing.
14. Combustion and Sulfur Dew Point.
15. Heat Supply by Microwave or Infrared Radiation.
16. Freezing, Deep-freezing and Thawing.
17. Freeze-drying.


About the authors
Jean-Paul Duroudier is an engineer from Ecole centrale de Paris, France. He has devoted his professional life to the study of materials in chemical engineering.
Downloads

Table of Contents
PDF File 735 Kb