Liquid–Solid Separators
Industrial Equipment for Chemical Engineering Set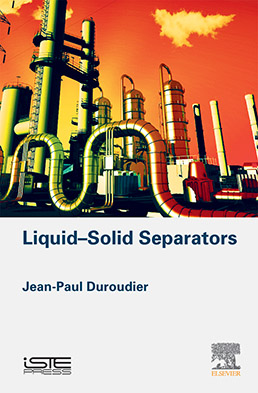 Description
This book is part of the Industrial Equipment for Chemical Engineering Set. Throughout these concise and easy-to-use books, the author uses his vast practical experience and precise knowledge of global research to present an in-depth study of a variety of aspects within the field of chemical engineering.

In this volume, filtration parameters are used to calculate and measure the properties of filters separating a divided solid from a liquid.

Well-known equations are used to describe the passing of a solution through a membrane to then deduce the expression of membrane rejection for solutes.

Biological membranes are used as examples, and the ionic flows that pass through them as well as their involvement in these reactions within the membrane are discussed.

The author also provides methods needed for understanding the equipment used in applied thermodynamics in the hope of encouraging students and engineers to build the programs they need themselves.

The chapters are complemented with appendices which provide additional information as well as any associated references.


Contents
1. Filtration of Liquids and Gases Screening of Divided Solids.
2. Theory of Membrane Filtration.
3. Theory of Dialysis-Biological Membranes–Electrodialysis.
4. Fractionation of Dispersions by Natural Decantation (by Gravity).
5. Destabilization of Sols (Colloidal Dispersions), Coagulation and Flocculation.
6. Flotation: Froth Columns.
7. Expulsion of a Liquid by Pressing.


About the authors
Jean-Paul Duroudier is an engineer from Ecole centrale de Paris, France. He has devoted his professional life to the study of materials in chemical engineering.



Downloads

Table of Contents
PDF File 465 Kb