Entrepreneurship and Development
Realities and Future Prospects
Volume 30 - Smart Innovation SET Coordinated by Dimitri Uzunidis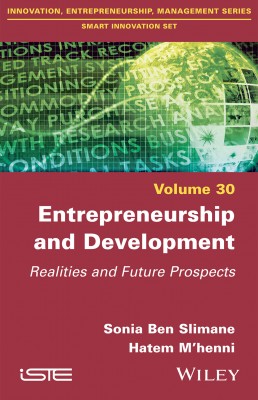 Description
In analyzing the complex link between entrepreneurship, innovation and development in the context of the emerging world, this book offers a holistic reading of this triptych based on a theoretical foundation that is itself subject to controversy: the national system of innovative entrepreneurship. The "emerging" nature of the studied countries provides specific insights, and allows the theoretical developments to be fine-tuned to the current issues.

In a context that makes competitive advantages transient, emerging markets can provide a real test case for responding in a structural and innovative way to social and economic challenges, thus ensuring the sustainable performance of their innovative entrepreneurial system.

Entrepreneurship and Development advocates for the integration of the social and cultural history of a given country within the framework of public policies, and proposes more targeted actions for innovative entrepreneurial activities. Moreover, the education system must integrate the entrepreneurial culture and foster multidisciplinarity to support the transfer of knowledge to markets.
Contents
Part 1. Innovative Entrepreneurship and Economic Dynamics
1. Entrepreneurship and Competitiveness in Literature.
2. Towards an Integrative Literature of Entrepreneurship.
3. The Theoretical Emergence of an Innovative National Entrepreneurship System.

Part 2. An Innovative Entrepreneurial System in Emerging Countries
4. Emerging Countries, Development Level sand Innovation.
5. Assessing Innovative Entrepreneurial Performance of Emerging Countries.
6. Outlooks for an Innovative Entrepreneurial System in Emerging Countries.
About the authors
Sonia Ben Slimane is Associate Researcher at ERIM-ESCP Paris, France, a lecturer in management sciences and a member of the RNI.

Hatem M'henni is Professor of Economics at ESCT (École Supérieure de Commerce de Tunis) and founding member of the ThEMA research laboratory.

Downloads

Table of Contents
PDF File 76 Kb