Internet of Things
Evolutions and Innovations
Volume 4 – Digital Tools and Uses SET Coordinated by Imad Saleh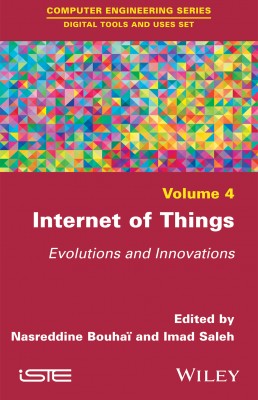 Description
The development of connected, communicating objects is showing no signs of slowing down. With an increasing number of objects available on the market, the evolution of the Internet of Things is leading to more and more fields being explored via information and communication sciences.

This book analyzes the ecosystem of the Internet of Things by retracing the historical and technological context of the Internet's evolution from traditional to dynamic, social and semantic, and then towards this ecosystem of connected objects. The evolution of concepts surrounding the Internet of Things is explored via real-life examples of connected objects; both those used for specific functions and for more general everyday objects.

Numerous issues associated with these new technological and digital transformations in a "hyperconnected" world, as well as the impact of the massive influx of connected objects, are discussed. The crucial questions of potential intrusion into the private lives of users as well that of security are then studied.

Contents
1. The IoT: Intrusive or Indispensable Objects?
2. The Ecosystem of the Internet of Things.
3. Introduction to the Technologies of the Ecosystem of the Internet of Things.
4. Toward a Methodology of IoT-a: Embedded Agents for the Internet of Things.
5. The Visualization of Information of the Internet of Things.
6. The Quantified Self and Mobile Health Applications: From Information and Communication Sciences to Social Innovation by Design.
7. Tweets from Fukushima: Connected Sensors and Social Media for Dissemination after a Nuclear Accident.
8. Connected Objects: Transparency Back in Play
9. Status of the Body within the Internet of Things: Revolution or Evolution?
About the authors
Nasreddine Bouhaï is Associate Professor in Information and Communication Sciences and researcher at the Laboratoire Paragraphe, Paris 8 University, France.

Imad Saleh is Professor in Information and Communication Sciences and researcher at the Laboratoire Paragraphe, Paris 8 University, France

Downloads

Contents
PDF File 132 Kb