Challenges of the Internet of Things
Technology, Use, Ethics
Volume 7 – Digital Tools and Uses SET Coordinated by Imad Saleh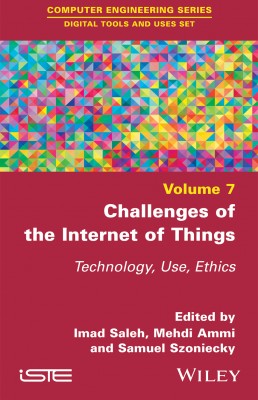 Description
This book examines the technological, functional and ethical problems of the Internet of Things (IoT), a field which has benefited from an explosion of innovation in areas such as digital infrastructure, software engineering, cloud computing and Big Data. The IoT and its derivatives have found applications in transport, administration, housing, maintenance, health, sports, wellbeing and more. However, through its proliferation in daily life, the IoT provokes questions regarding both its positive and its negative consequences, and thus its true ethical implications.

The reflections explored in this book offer original perspectives on the techniques that stimulate this innovation and their impact on the process of change experienced by today's society.
Contents
1. Internet of Things (IoT): Concepts, Issues, Challenges and Perspectives, Imad Saleh.
2. Deep Learning Approach of Raw Human Activity Data, Hamdi Amroun, M'Hamed (Hamy) Temkit and Mehdi Ammi.
3. Study and Development of a Smart Cup for Monitoring Post-stroke Patients Activities at Home,
Mehdi Ammi, Mehdi Boukallel, Margarita Anastassova, Hamdi Amroun and Maxence Bobin.
4. Enabling Fast-prototyping of Connected Things using the WiNo* Family, Adrien van den Bossche, Réjane Dalcé and Thierry Val.
5. Multi-standard Receiver for Medical IoT Sensor Networks, Tarak Arbi and Benoit Geller.
6. Ambient Atoms: a Device for Ambient Information Visualization, Sébastien Crouzy, Stan Borkowski and Sabine Coquillart.
7. New Robust Protocol for IoV Communications, Lylia Alouache, Nga Nguyen, Makhlouf Aliouat and Rachid Chelouah.
8. Interconnected Virtual Space and Theater: A Research–Creation Project on Theatrical Performance Space in the Network Era,
Georges Gagneré, Cédric Plessiet and Rémy Sohier.
9. Mobile Telephones and Mobile Health: a Societal Question Under Debate in the Public Domain, Brigitte Juanals.
10. Modeling Power to Act for an Ethics of the Internet of Things, Samuel Szoniecky.


About the authors
Imad Saleh is Full Professor in information science and communication, and Director of the Paragraphe laboratory (Paris 8 University and Cergy-Pontoise University, France).

Mehdi Ammi is Associate Professor at the University of Paris-Saclay, France, and a researcher at the LIMSI laboratory.

Samuel Szoniecky is Associate Professor in digital humanities at Paris 8 University, France, and a researcher at the Paragraphe laboratory (Paris 8 University and Cergy-Pontoise University, France).
Downloads

Table of Contents
PDF File 123 Kb