Ecosystems Knowledge
Modeling and Analysis Method for Information and Communication
Volume 6 – Digital Tools and Uses SET Coordinated by Imad Saleh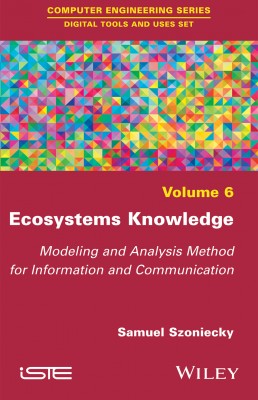 Description
This book proposes a method which uses the analogy of the ecosystem in order to model and analyze information and communication.

Although the concept of the ecosystem is increasingly used to describe situations in which multiple actors have dynamic relationships (such as the digital economy or the domain of innovation), until now there has not been a book which presents this concept in a detailed and critical way. More than ever, as digital data is becoming increasingly important, it is fundamental to understand and manage the ins and outs of these technologies, the information they produce and the communications that they generate.

This book presents the concept of the knowledge ecosystem by focusing on the uses, theory and design of a platform for collective intelligence. Conceptual and computational tools are then presented with which we can analyze the complexity of information and communication through generic modeling of information–communication processes. Finally, the author explores avenues for further research and the experiments necessary to further our understanding of knowledge ecosystems.
Contents
1. Use of the Ecosystem Concept on the Web.
2. Ecosystem Modeling: A Generic Method of Analysis.
3. Fundamental Principles for Modeling an Existence.
4. Graphical Specifications ?for Modeling Existences.
5. Web Platform Specifications for Knowledge Ecosystems.


About the authors
Samuel Szoniecky is a lecturer in Digital Humanities at Paris 8 University, France, and a researcher at the Laboratoire Paragraphe.
Downloads

Table of Contents
PDF File 83 Kb