IP, Ethernet and MPLS Networks
Resource and Fault Management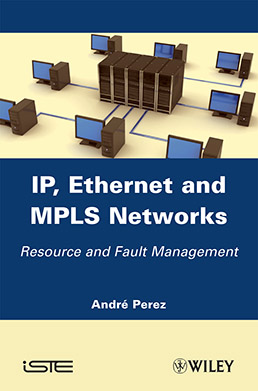 Description
This book provides details of the key Quality of Service (QoS) technologies deployed in telecommunications networks: Ethernet, Internet Protocol (IP), and Multiprotocol Label Switching (MPLS). The QoS of the network is made up of two parts: fault management and resource management.

Network operation quality is among the functions to be fulfilled in order to offer sufficient QoS to the end user. It is characterized by four parameters: packet loss, delay, jitter (or the variation of delay over time), and availability. Resource management employs mechanisms that enable the first three parameters to be guaranteed or optimized. Fault management aims to ensure continuity of service, and thereby to maximize the fourth. These topics are all key elements of network traffic engineering and resiliency-building.

Resource management for each technology is based on protocols providing relative QoS or guaranteed QoS. Relative QoS is built based on a marking of frames or packets. The Resource Reservation Protocol (RSVP) – a transport layer protocol – and its variations are the building blocks for the QoS guarantee.

Fault management ensures the reconfiguration of the network which is obtained from the routing protocols OSPF (Open Shortest Path First) and BGP (Border Gateway Protocol) for IP networks, the Fast Reroute (FRR) mechanism for MPLS, and Spanning Tree Protocol (STP), Rapid Spanning Tree Protocol (RSTP), or Multiple Spanning Tree Protocol (MSTP) protocols for Ethernet networks.
Contents
1. Network Operation.
2. Characterizing Quality of Service.
3. Transport Protocols.
4. Implementing Operation Quality.
5. IP Technology – Resource Management.
6. IP Technology – Fault Management.
7. MPLS Technology – Resource Management.
8. MPLS Technology – Fault Management.
9. Ethernet Technology – Resource Management.
10. Ethernet Technology – Fault Management.
About the authors
André Perez is a consultant and trainer in networks and telecommunications who defines the implementation of operator networks. He also teaches QoS technologies in engineering schools.